August 12, 2002

Getting Our Kicks on Route 66
by Mark Flynn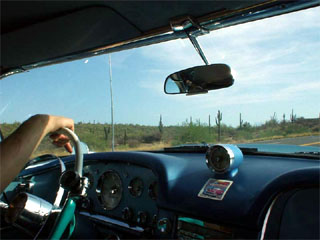 All of my friends are into vintage cars, music and style. Our interests lie mainly in the Fifties, but may span from the late 20ís to early 60ís.
Last weekend several of us decided to take a 2 day cruise around central Arizona to enjoy some of its past. Route 66 still has some really interesting things to see if you take the time to pull off the interstate and drive into some of the old towns.
Our trip centered on a night in Holbrook, but included several planned and a couple of unplanned stops. We started off from Phoenix on Saturday morning and drove Northeast through canyons and over mountains to Payson. Our poor Desoto had a little trouble climbing some of the steeper grades, but like a certain type of watch, it kept on ticking.
We stopped in Payson for breakfast in a place called the Knotty Pine Diner (It's for sale for $450,000 if anyone's interested). This place was built in the 40's I think. The food was simple American fare, the service was extremely fast (someone joked about having their food in front of them before the finished ordering!) and the people were very friendly. Next we drove over some more mountains (6000 ft.), traveling through some beautiful forest land which you may have seen recently on TV due to a huge fire that damaged several hundred thousand acres. This had us a little worried when we were planning the trip. Some blackened areas were visible, but even in these, you could see the forestís resilience in the green that was showing through.
We arrived in the sleepy town of Holbrook shortly after noon, so we cruised around town checking out some vintage stores and other sites. We met a guy named Earl, at the A & W, who invited us to his "shop" were he had some crazy custom VW's including a Beetle Limo!
We spent the night in the Wigwam Village Motel. This place is the coolest! All the rooms are teepees, which were built by the current owners' father in the early 50's. It's a Historic site, so all the rooms are kept as original as possible (no phones!). They even have several vintage cars parked out front, most of which are still driven by the owners, including a "brand new" Studebaker! The owner insisted we check out our rooms before paying the bill! we hung out for the rest of the evening in front of one of the teepees for a BBQ and sing along (OK drink-a-long). A propane torch is fantastic for lighting a stubborn BBQ by the way (kids don't try this at home).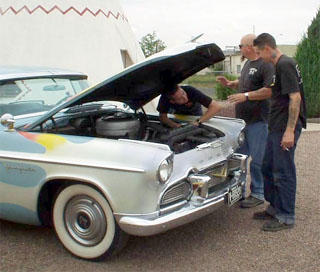 The next morning we were taking some pictures of our rides in front of one of the teepees. The Desoto decided it liked the spot so much, it didn't want to leave!
It turns out the starter solenoid was sticking because the entire starter casing was loose! Well, I tightened that up and we were on our way.
We continued West on to Flagstaff (8000 ft) where we visited the parents of one of the couples. They had an amazing 8 sided house on the side of a hill with a manmade pond a little off in the woods.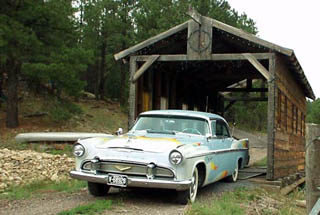 We then turned South and drove down a winding 2 lane road to Sedona. The road traverses the mountain from 8000 to 2000 ft. in approx. 5 miles.
Sedona is located in a breathtaking canyon location next to Red Rock State Park. We stopped there to catch our breath and then we then continued south back to Phoenix.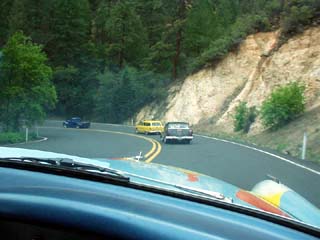 There were no major breakdowns on the road except for the Desoto losing a wiper blade during a quick shower! I removed the passenger side arm and put itís blade on the drivers side, which worked great, but Maureen was getting a little dizzy trying to see out the wet windshield! I also had some trouble with the fuel mixture due to the changing altitude. One of our group lives Northwest of Phoenix in the middle of the desert. As he arrived home, he pulled his car (a 56 B**ck) onto his property where his fuel pump promptly died. What Luck!
It was SO COOL driving the cars down the highways and watching them all weave back and forth as the Bias ply tires caught every crack in the road. We all helped each other with any little problems the cars had. We met a few interesting people, had our pictures taken and even had a bit of video shot from a passing van while we were driving.
Man, what a great weekend. For major stress relief, I highly recommend finding a relatively nearby site, attraction, town or whatever, get a few friends together and take a cruise.
Copyright 2002, Mark Flynn
---
Back to DeStories